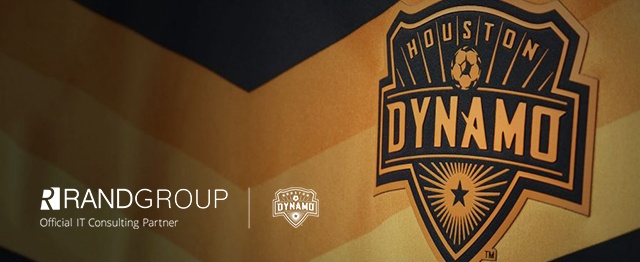 HOUSTON, TX – Major League Soccer club Houston Dynamo have selected Rand Group, a multi-platform systems integrator based in Houston, Texas, as their official IT consulting partner, the club and Rand Group announced recently. This partnership will help the club continue to transform their technology operations while creating awareness of Rand Group throughout the local soccer community.
"As proud fans, we are honored to be named the exclusive IT consulting partner for the Houston Dynamo," said Ron Rand, CEO of Rand Group. "We have done some truly impactful work with the Dynamo, as well as the Houston Dash and all of the club's business entities, helping transform their business management systems. We look forward to optimizing their IT operations even further in the coming months."
Both the Houston Dynamo and Rand Group found common ground in their core values of achieving success through hard work, team-first focus, and a strong commitment to the community. With two MLS Cup championships and four conference titles in 11 years, the Houston Dynamo have brought prosperity and pride to Houston as one of the most successful clubs in Major League Soccer since they began play in 2006. Rand Group, over the past 15 years, has worked with more than 500 companies throughout the city, empowering local businesses to achieve results through technology.
Working with the Dynamo and their partner company, Dynamo Soccer Holdings, Rand Group is the primary service provider for all of the club's software support and infrastructure needs. With a team comprised of highly skilled technical experts, former practicing certified public accountants, and experienced management consultants, Rand Group offers a full spectrum of business services designed to address all key operational areas of a business.
About Rand Group
Rand Group (www.randgroup.com) is a professional services firm that help clients use technology for business success. As a multi-platform systems integrator, Rand Group's experienced, certified consultants build, manage, and support business solutions from back office to front office through a single point of contact. Fast growing, highly accredited, and motivated by the success of our clients, Rand Group offers the right combination of ingenuity, dedication, and professionalism to help drive real business results. Headquartered in Texas, with two offices in Houston, and another in Vancouver, Rand Group has repeatedly appeared in Accounting Today's Top 100 VAR listing and holds 6 Microsoft Business Competencies.
About the Houston Dynamo
The Houston Dynamo are a Major League Soccer club that has won two MLS Cup championships and four conference championships in its first 10 seasons and qualified to represent the United States in international competition six times. The team trains in the Houston Methodist Champions' Field at Houston Sports Park (HSP), the premier training facility in Southeast Texas, and plays at BBVA Compass Stadium in downtown Houston. For more information, log on to www.HoustonDynamo.com or call (713) 276-7500.